Easter Traditions Across the Globe, and the History of our Easter Traditions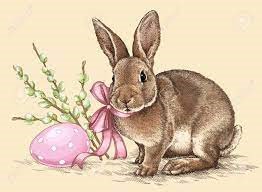 By: Avery Dobozi
Easter is coming up! This year, Easter falls on April 17th. We all may remember Easter traditions from our childhood, like Easter egg hunts, the Easter Bunny, Good Friday and Easter Sunday Mass services, and much more, but families across the world celebrate Easter in some weird ways. Read on to find out more about wacky Easter traditions across the globe as well as the .
Guatemala: In Guatemala, citizens crowd the streets to decorate beautiful carpets throughout Holy Week. On Thursday of Holy Week, Easter celebrators use stencils and colorful dust to create images across the streets. These designs range from religious symbols, to nature, to history. The dust that is used is made of ground flowers, vegetables, fruit, and sawdust. On Good Friday, the religious processions walk across these carpets, and the beautiful decorations are gone for the year.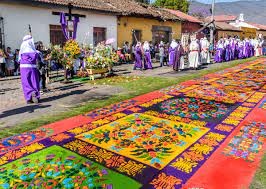 France: In Haux, France, townsfolk come together to create a giant omelet. Every Easter Monday, everyone comes together to crack thousands of eggs and cook a huge omelet. This tradition started in the 18th century. Legend has it, Napoleon Bonaparte stopped in Haux, and ordered the town to create a giant omelet for his army. To accomplish this task every year, over 15000 eggs are used, and almost 1000 people are fed.
Bermuda: It is a respected tradition in Bermuda that, every Easter weekend, people participate in a kite flying festival. People from across the island create their own colorful kites, and they come together to fly them. This is used to symbolize Jesus' ascension. This tradition is coveted in Bermuda, and there are even prizes for the best kites.
Poland: In Poland, Easter is celebrated traditionally, with Mass and time with family, but Easter Monday is a whole other ordeal. Easter Monday is referred to as Smyngus Dingus, or Wet Monday. In hopes of bringing April showers and new spring beginnings, families participate in water fights, including water gun fights and water balloons.
Nordic Countries: Up in Scandinavia, children dress up as witches (seen right), and participate in a Trick-or-Treat like activity. They knock on doors and get candy from neighbors in exchange for flowers. They give their neighbors flowers to welcome spring and drive out evil spirits.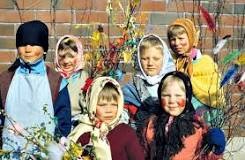 We all know of our own traditional Easter festivities that occur here in America, but do you know the history surrounding the Bunny that delivers eggs? Researchers believe that the Easter Bunny stems from Pagan tradition, as a symbol for spring. Many theorize that the German brought the tradition of the Easter Bunny to America in the 18th century. In Germany, the bunny would come to the houses of good, well-behaved children, and leave eggs with candy. The children would build nests for their eggs, and they would leave carrots for the bunny. Historically, the idea of the bunny leaving eggs represents Jesus' emergence from the tomb and his resurrection. In fact, decorating eggs at Easter is a tradition that dates back to the 13th century.