Assumption cross country goes the distance
By: Taylor Fralick
On Saturday, Dec. 7, the Louisville Track Club, consisting of seven Assumption students, placed 16th in the Nike Cross Nationals in Portland, Oregon.
The seven runners include Bailey Davis, Katherine Receveur, Kate Crawford, Kenzley Defler, Emily Bean, seniors, Abbie Wright, junior, and Sarah Crawford, sophomore.
Davis was the first to finish for the Louisville team, placing 85th with a time of 18 minutes, 54 seconds.  Following Davis, Bean placed 91st, Wright placed 123rd, Defler placed 144th, Kate Crawford placed 152nd, Receveur placed 162nd, and Sarah Crawford placed 178th.
This race is considered the high school national championship for cross country.  The team qualified for the race by winning the Nike Cross Nationals Southeat Regional in Cary, NC on Nov. 30.
There were 22 seven-member teams with an additional 44 individual girls that participated in the meet.    According to runnerspace.com, the event featured "a multiple loop race course with man-made obstacles built on the inside of the horse race track at Portland Meadows."
Due to inclement weather, the team's return to Louisville was delayed one day.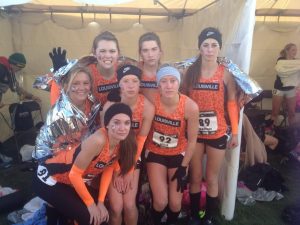 The team poses after finishing 16th in the Nike Cross Nationals on Saturday, Dec. 7.
Photo taken by @ahs_distance on twitter.com.