Seniors go out with a bang, a bang of pink
Emily Darnell
Pink. There is pink everywhere. Pink glitter and balloons cover the floors, pink cloth hang over the fluorescent lights above, and anything remotely pink hangs from the lockers and ceiling. Senior hall is almost impossible to navigate due to the pink string that hangs from wall to wall. It is most definitely senior prank day.
Senior prank day is more than a day of fun and games; it is a farewell to the school that has been the seniors' home for the past four years. The class of 2014 decided to bend the rules by dying their uniform skirts and blouses bright pink, wearing flip flops, putting fake tattoos on, and breaking any other uniform rules they could.
"I'm sad to leave and it's really starting to hit me that we're leaving," said Kenzley Deffler, senior.
Besides the hall decorations, the seniors hid in the senior parking lot and sprayed underclasswomen with water guns filled with sprite, coke, and water. Others were hit with pink silly string as they were walking from the American Legion parking lot to school.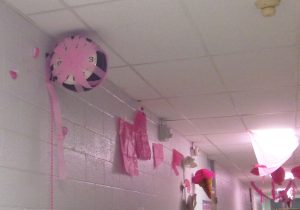 "It was a lot of fun and everyone really got into it," said Elise Amshoff, senior.