Emily Darnell
Kentucky Kingdom is making a comeback, and on May 24, the park officially opens to the public with several brand new rides. Ranging from roller coasters to water slides, there are a variety of attractions debuting in the opening. Some of the new rides include:
Lightning Run: Starting with a 100 feet, 80 degree drop, Lightning Run is a steel rollercoaster filled with twists and turns – all at high speed. This attraction is 10 stories tall and the 100 feet drop is nearly straight to the ground.
Fearfall: Strapping into a seat, Fearfall rises 129 feet over the park to create a spectacular view for a short time. Then the ride is sent plummeting back down to the ground at 45 miles per hour.
Adventure River: A new twist on the classic lazy river, Adventure River carries the patron six times faster than the average lazy river for non-stop fun.
Plummet Summit: This water ride starts its four-to-five passengers 52 feet above the ground then rushes the raft down the twist and turns of the side for fun for all.
Other attractions such as a new wave pool, a 5D cinema, and bumper cars will also debut at the opening. Classic attractions such as Thunder Run, The Giant Wheel, Tornado, and the lazy river will also reopen. Rides new and old are waiting behind the gates of Kentucky Kingdom, and they will not disappoint.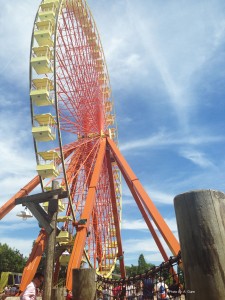 Story continues below advertisement