How to make the perfect cookie without a crumble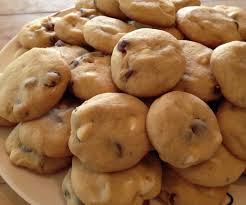 Shelby Weigel
Looking for a new, easy recipe to try out over the summer? Well then, let me introduce the pudding cookie.
You will need 1 cup of margarine, ¾ cup of  brown sugar, ¼ cup of sugar, 2 eggs, 1 teaspoon of vanilla, 1 teaspoon of baking soda, 2 1/3 cups of flour, 1 package of instant vanilla pudding mix, and 1 package of chocolate chips.
For variety, you could use chocolate pudding mix instead of vanilla. I have made each kind for people before, and most say they like the chocolate more, but both are very good.
First, preheat the oven to 375 degrees. Mix together the margarine, brown sugar, and sugar. Then, add the eggs and vanilla. Before you put anything else in, you need to mix.
Add the flour, pudding mix, and baking soda. Then, mix another time. Stir in the whole bag of chocolate chips and mix once more.
Scoop out dough about the size of a dollar coin. Now, roll it into a ball. Set them about an inch apart and bake at 375 for 8 to 10 minutes. This will make 24-36 small cookies that everyone will love.