Green Dot Awareness Week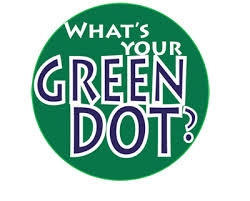 Green Dot Awareness Week is held from Oct. 27 to the 31 and is run by the Green Dot Club and Mary Byron Scholars. Green Dot is a club committed to promoting the idea that we, as bystanders, can play an important role in helping create a culture of non-violence among peers.
The week is run to publicize the principles that surround Green Dot and it encourages the members of the club and the school as a whole to make a difference, and use their powers as bystanders to fight against dating violence.
The week consists of morning announcements, daily trivia questions with prizes, posters and decorations around the school, homeroom videos, a movie during study blocks, and a collection for cellphones done by the Mary Byron Scholars.
The Mary Byron Scholars are working with Verizon HopeLine to collect no-longer used cellphones. After the collection of the phones during Green Dot Awareness Week, Verizon will take the phones and dispose of them in an environmentally friendly way and then the proceeds from the donated phones will provide cash grants to non-profit organizations that support domestic violence victims and survivors. The money will also provide funding for education and prevention programs against dating violence. The homeroom with the most cellphones by the end of the week will also receive family points and a box of donuts.
Since 2001, HopeLine has collected more than 10.8 million phones and awarded more than $21.4 million in cash grants. In addition, Verizon has distributed more than 180,000 phones with over 543 million minutes and 207 million text messages to domestic violence victims. In Kentucky alone, HopeLine provides free wireless phones for shelter victims and provides grants for free legal services, Green Dot training for teen leaders, and elder prevention training.
Domestic violence affects almost everyone in some way. One in four women, one in seven men, and more than 3 million children have been affected by some form of domestic violence. The Green Dot Club puts on this week to expose Assumption to information about the violence that exists in our world and they want to be able to give the community the tools to make a difference.
"We can all do regular, everyday things as bystanders that can make a big difference, just as long as we all do it," said Abby Asfahl, Green Dot Club moderator and counselor, said.
Article by Jennifer Buckman