How to make the best of Black Friday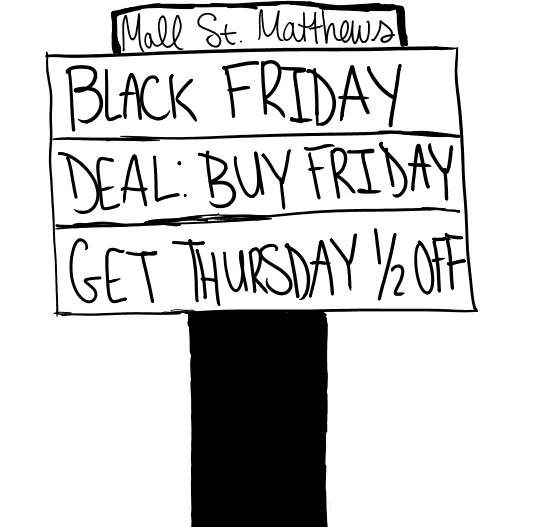 Stores are opening their doors earlier this year to make way for the millions of expected shoppers this Black Friday. Many stores have chosen to stay open on Thanksgiving Day, rather than opening that night or at 12 a.m. the next morning. Stores opening on Thanksgiving Day include Macy's, Target, Kohl's, Best Buy, and Toys "R" Us. Stores who are keeping their doors closed on Thanksgiving to allow their employees to spend the holiday with their families include Dillard's, Nordstrom, GameStop, and Pier 1 Imports. The early openings are expected to take a sizeable chunk of Friday's revenue as shoppers are hoping to get the deals early and skip out on the crowds.
This year, Black Friday falls on Nov. 28, less than a month before Christmas, which is expected to cause a slight dip in sales due to people wanting to purchase gifts earlier. However, the day is still expected to be the second highest grossing shopping day of the year. More people are expected to stay home this year and make most of their purchases online to avoid the crowds and to snag better deals.
Another factor hurting Black Friday sales are the claims that the deals aren't as great as they appear to be. For example, a Frozen toy castle in Toys "R" Us' catalog goes for $150 and includes a $20 coupon, but in Meijer's catalog, the same castle was already $130, the same price as Toys "R" Us' castle with the coupon. Shopping experts say there are many more examples such as this one and nearly every store is guilty of it. This reasoning isn't likely to stop most shoppers since there are still comparatively good deals such as Best Buy's sale on Beats by Dre Solo headphones which will run for $80 on Black Friday, down from a typical average price of about $170.
So before you go out and snatch up all the deals on Black Friday, do a quick Google search to find out which places have actual deals and which sales are scams. There's even an official Black Friday Shopping App to help you plan which place has the best deals to ultimately save you a lot more money.
Article by Victoria Shirciffe