Heart disease is believed to be more common and rarely seen in women, while in reality, heart disease is the number one killer in women. On Feb. 7, 2003, the American Heart Association and the National Heart, Lung, and Blood Institute decided to take action to show women that they were just as much at risk for heart disease as men. Since the start of this 'Go Red for Women' day, celebrated on the first Friday of February every year, six out of ten women have changed their diets and one third of women have talked to their doctors about developing healthy heart plans according to the American Heart Association.
This year, there was a certain new gadget that was a must have on everyone's Christmas list. The Fitbit, a device that contains a 3D motion sensor that accurately tracks your calories burned, steps taken, distance traveled, and sleep quality, was voted one of the top selling Christmas gifts of the 2014 season. Fitbits and other such gadgets are designed to help track and keep with your lifestyle and health through a band-like bracelet that wirelessly syncs with an app on your phone that lets you see how close you are to meeting your goals for the day. Many don't know these health tracking devices could help put you at a lower risk for heart disease.
When you first purchase your Fitbit and sync it with the app, it automatically sets your goal to walk 10,000 steps, five miles, ten flights of stairs, and burn 2,500 calories per day. These aren't just random goals that FitBit created, though. According to the American Heart Association, walking 10,000 steps a day is the guideline for improving health and reducing the risk of heart disease.
The Fitbits and other devices start at only $59.95 and go up to almost $300, but they could be a good way for you to stay healthy and free from heart disease.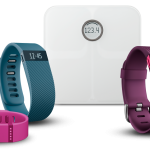 Story continues below advertisement
Article by Haley Bain