Stand with Students rally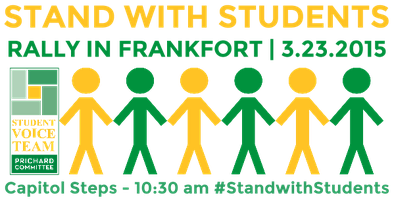 HB 236 is a bill in current legislative session drafted by the Prichard Committee Student Voice team. The purpose of the bill is to allow school districts to add one student member to their superintendent screening committees. Their goal is to gain more student participation in these important matters and give them a voice. It passed the House with flying colors and was reported favorably by the Senate Education Committee, but two Senators are against it.
In order to fight for this bill, students from all over Kentucky met on March 23rd at 10:30 to stand on the steps of the Capitol in Frankfort for a rally. These students demanded for their voices to be heard and advocated this bill strongly, along other politicians and national and local media outlets.
Eliza Devlin, Junior, was invited to speak at this rally in front of fellow students, politicians, and the media. She was chosen in order to advocate her support for the bill. She represents Assumption but also the 1200 members of the Kentucky Youth Assembly of whom voted her to be their 2015 youth governor.
HB 236 has received major media coverage by news outlets like the New York Times, etc. Devlin states, "One article claimed that the students who wrote this bills only knowledge about politics was 'schoolhouse rock'. Not only am I appalled but I am disappointing that once again the leaders of my commonwealth are not only ignoring the voice of the future leaders of Kentucky but labeling them as incompetent."
Devlin, along with a large number of other students, feel very strongly about this bill and the improvements that it will create for future student leaders of Kentucky.
Article by H.Lane