Presenting… the mothers!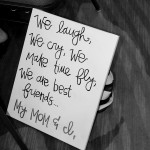 Mothers are better than Santa Claus. Honestly. Santa gives out small toys made by his elves on one day a year. Mothers give all they have to their families- money, time, and love- every single day of their lives and ask for little in return.
At the Mother Daughter Breakfast, the senior class decided to return the favor. The event, which kicks off senior graduation celebrations, is a chance for seniors and their mothers to enjoy a nice breakfast together at the Marriot Hotel.
Each senior makes something for her mother, a tradition that's continued since the creation of the event. Even Martha Tedesco, principal, says she remembers making a present to give to her mother when she was at Assumption.
There were canvases, photos, poems, and every cute DIY imaginable, but most mothers would agree the best gift they received was the opportunity to spend the morning with their daughters.
Article by: K. Nilest
Photos by K. Nilest