Humans of AHS: Savanna Olson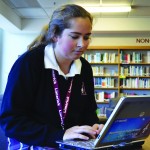 If you're ever looking for Savanna Olson, Assumption junior, you can probably find in her Trinity cheer uniform.
"I knew a lot of my friends were cheerleading and I wanted to try it out. I think making the cheer team was my greatest accomplishment. I was really proud because I didn't think I was going to make it."
When Savanna isn't cheering, she's with her friends or family. She's the third child in her family, with an older sister (who also attended Assumption!), an older brother, and a younger brother. Everyone in her family is original from Louisville.
"[My happiest moments are] when I'm around my family. I'm really close to them."
She's thinking of following in her brother's footsteps and going to UofL (even though her sister graduated from UK). She's also got an idea of what she wants to major in.
"[I think I want to go into] something medical, maybe nursing. My sister has a lot of friends that went into nursing and they love it."
Whether she's cheering, studying, or spending time with her friends and family, Savanna is always smiling and doing her best.