In Murfreesboro, Tennessee, the Miller Coliseum recently held the National Academy Championship. Horse riders of different ages came across the country to compete in this large horse show. Senior, Laura Russell, competed in this event and was named the grand national champion in her equitation class.
Growing up with a love for horses, Laura began riding eight years ago. Now, she rides for Evermore Farm and dedicates several hours every Saturday to helping at the barn and practicing to better herself. It was these Saturdays that gave Laura the confidence she needed to perform well at nationals, "I would wake up feeling really confident, because I knew I had done weeks and weeks' worth of extra practice to prep for Academy Nationals, so I felt really prepared."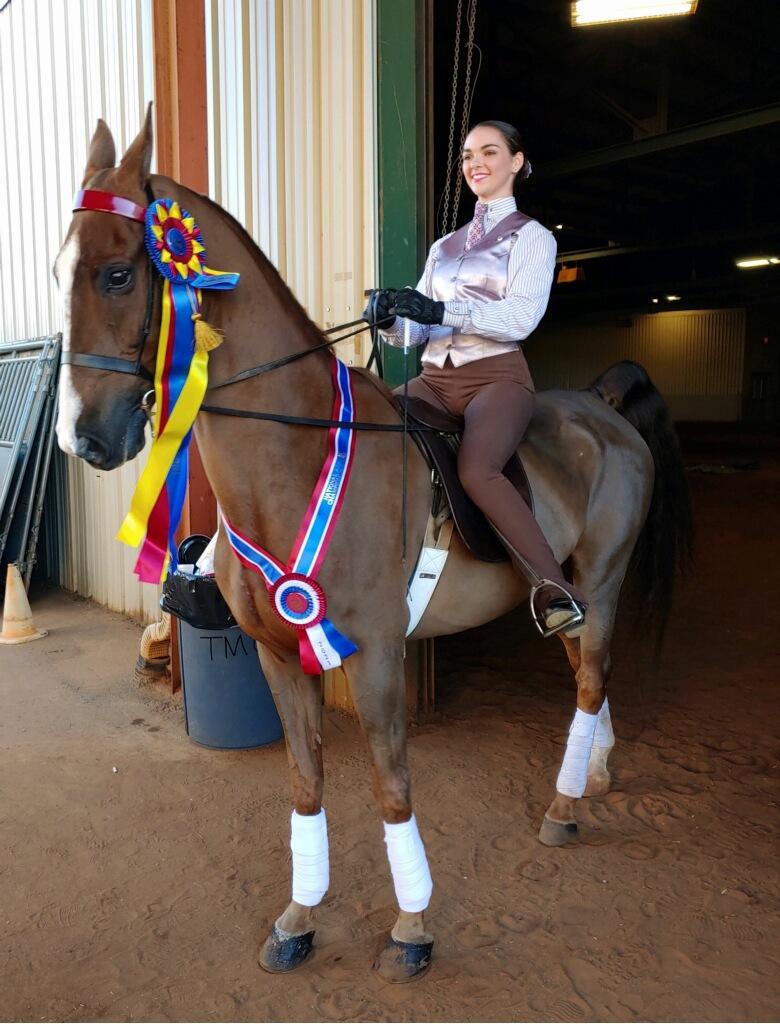 Each day of the competition, Laura competed in 2 different classes, a session where riders are grouped together by age and experience to compete against each other. Every day leading up to finals, riders who didn't make the top ten would be eliminated. Her two classes were English pleasure where the judges focus on the overall look of the horse and English equitation where the judges focus on the rider and how well they handle the horse. Laura noted the difficulty of each competition, "You always have to be looking for the best position for your horse and making sure both you and the horse look good while still being aware of what others are doing around you. You have to plan ahead and find a way to make yourself stand out from the other riders in the ring with you."
Story continues below advertisement
In the finals, Laura was awarded 5th place in her English pleasure class, and 1st place in her English equitation, making her the grand national champion in that class. After her win, Laura felt proud, accomplished, and extremely grateful to all the people that had helped her get to where she was.
Despite all her accomplishments, her favorite part of the entire event was being able to connect with the whole riding community, "I don't usually have the chance to interact with so many different riders. All the people there were incredibly kind and supportive. I had people I had never met come up to me and congratulate me on my rides, and I would talk with other girls I was competing against while standing in the lineup."
Although she knows it will always be a big part of her life, Laura is unsure of where her riding will go next since she will be attending college next year. However until then, she will continue to ride and work at the barn making memories that will last a lifetime.
By: Sarah Dahl