Book Review: Connor Franta is still "A Work in Progress"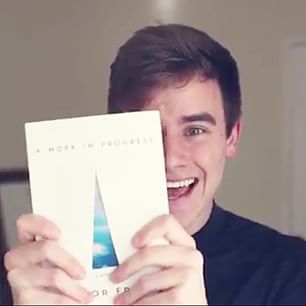 Our teenage years can be some of the most stressful years of our lives, but they can also teach us the most lessons. Many people know Connor Franta because of his YouTube videos he posts (almost) every Monday. Most people only know of the happy and giggly Connor on camera but, on April 21, 2015 he released his first book where he talked about the problems he has faced in his life behind the camera. In the book he talks about some of his childhood memories and about growing up in a small town with his happy family. The book reminds people that he is human too and he goes through problems just like everyone else.
In his memoir he is very honest about his struggles with his identity, body image, and sexuality. He is only 22 years old, so some people might doubt how much people can learn from him. However, he has been through a lot for his age and anyone could learn positive lessons from him. He talks about how he has learned from everything in his life and it can inspire others to know that life will never be perfect. "Real life isn't like that. It's one take, unedited, imperfect, and littered with mistakes that we must repeat until we get it right."
It feels like Connor is right there talking to you and his advice is sincere and he really does care about who reads his book. The pictures in the book are also fantastic and make the book more "artsy". This is a great book for anyone but especially teenagers because he talks about what many teenagers go through and he can help how to deal with their problems. He encourages the reader to make their own decisions and to do what makes them happy even if it is hard.
Even if you aren't a fan of Connor I would still recommend this book to you because it is one of the most inspiring books I have ever read. Anyone could probably learn at least one lesson from this book they need or needed in their life. "You are who you are in this given moment. Label-less. Limitless. Remember that from this day forward."
By: Kayela Goeing