A Teenager's Pandemic
By Hailey Doran and Natalie Koch
"I felt as though I completely missed out on a high school experience."
A response given among over 170 other Assumption students when asked what challenges they faced due to the pandemic. Many went into more detail, but this quote sums it up. Experiences of loss, mental illness, and a sense of despair was left with these teenagers during a time when growth is crucial. How do we, as a community, return back to "normal?" It's unclear if it's possible. Assumption is aware of these issues and is taking steps to help these students during this developmental stage in their lives.
"[Last year] our students still learned the necessary content and skills, but we're still trying to figure it out so that they don't feel the stress and anxiety of the transition back," Principal Mrs. Tedesco said when asked what she thinks the long-term effects of the pandemic are. She had many things to share on this topic, including her belief that the social and emotional impacts of students are long term. "The mental health of students has always been a big concern of ours," she stated. "Building community is hard with masks. We try to offer as many activities outside as we can, so students can take off their masks and see each other." She proceeded to share her view of what the school is aiming to do to reestablish connections. Additions such as Boots and Bling, class bonding activities, and a 25-minute-long LEAD and Learn time were put in the schedule with the goal of the school coming together to take their minds off of stressful factors of the pandemic.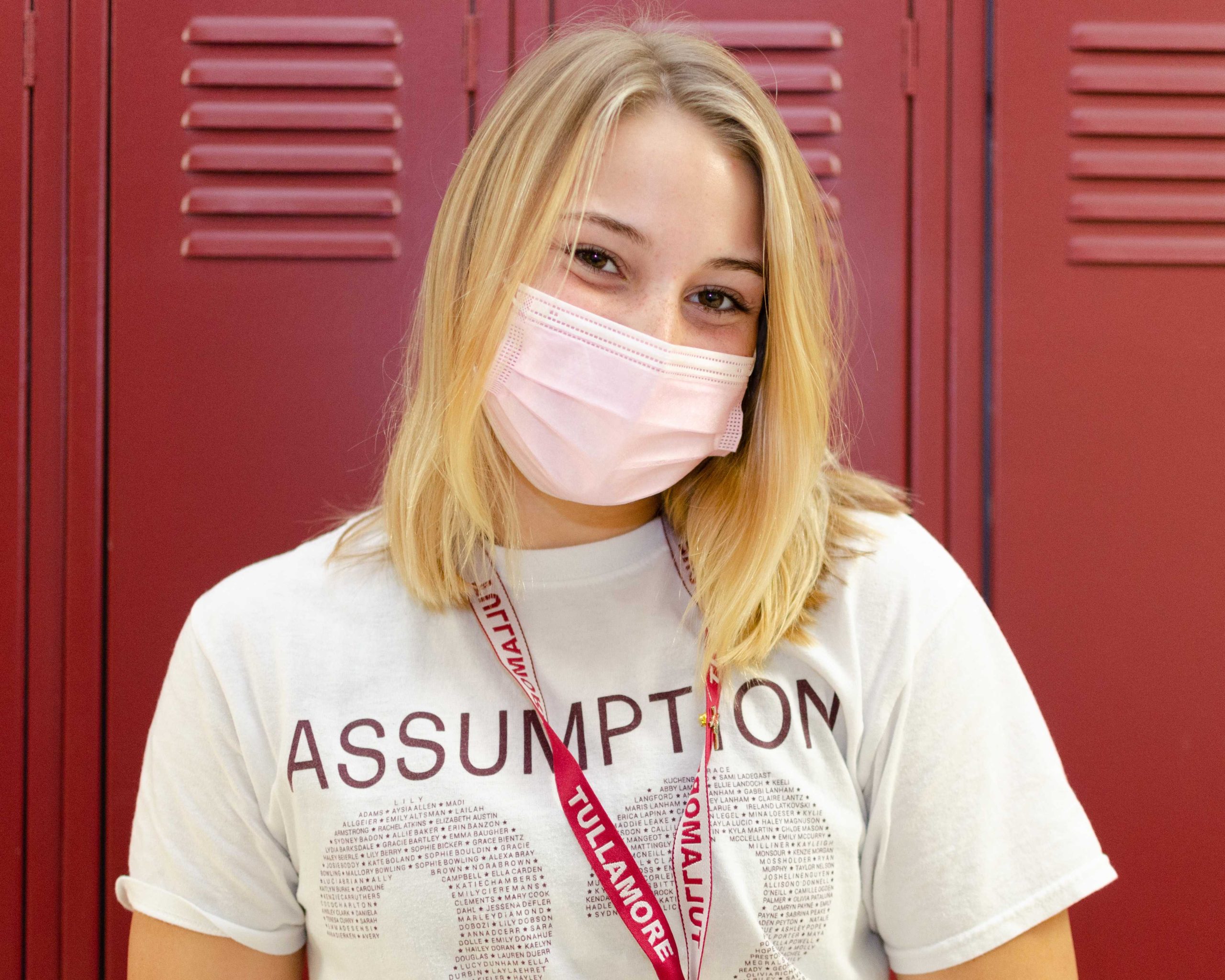 Eden Humphrey, a senior in Assumption's class of 2022, shares her view on Assumption's help in returning to a more traditional school year in regard to academics and social success. Specifically, Humphrey finds Assumption's encouragement to attend out of school events a great pillar of social support that is needed as we try to obtain a sense of normality that we have been missing over the past two years. When asked about the communication of mental health needs of struggling students to teachers Humphrey stated, "If you ask for help, you're going to get it." She emphasized the importance of communicating with and helping the Assumption administration support students and their necessities. Having yet to have a teacher that has challenged her mental health due to her ability to advocate for her needs, Humphrey believes students should begin recognizing their struggles and be able to speak up for themselves as they grow older, especially in times like these.
"There's a fear of the unknown," she stated when questioned about consequences of the continuation of sports through the pandemic. According to Humphrey, here were many necessary, but stressful changes to sports increasing stress levels and causing swim to become "really mentally challenging". Just as sports have changed, Humphrey feels an increase in stress as the school reinstates the five-day school week. "Returning was more difficult because of more expectations and that fact that we're still coping with what happened," she says, and continues by saying that last year felt as though it was hopeless and lacking educational fulfillment, but this year brings an increase in stress as we reintroduce more learning. Through all the negatives, Humphrey finds positivity through the growth of her independence during the pandemic. She states that she would not be who she is today if not for the opportunity to grow to appreciate the things around her along with the blessing to learn to reframe her mindset around gratitude.
In regard to gratitude, Mary Claire Schmidt, a member of the class of 2023, is confident in Assumption's attempts to help their students return to the former normal. "Assumption is doing the best they can to reincorporate social events and stressing community between upper and underclasswomen," with this emphasis on the rekindling of community, she believes that faculty and staff are accommodating well, and the counselors are doing their best by making themselves available for students in need. Academically, Schmidt feels that teachers are understanding in regard to grades and are being welcoming as we return to this new abnormal normal. Furthermore, she believes that teachers are accommodating well in the sense that they are doing an adequate job acknowledging rough days and students/teachers are working with one another to find the best way to meet both of their needs. When asked about the accessibility of current mental health resources Schmidt states, "It's fantastic, counselors are busy but always make a point to make themselves available… they check in even outside of their once a semester obligatory meetings." However, Schmidt feels as though there needs to be more attention placed on offering diversity in mental health help, especially after the individual traumatic experiences from the pandemic.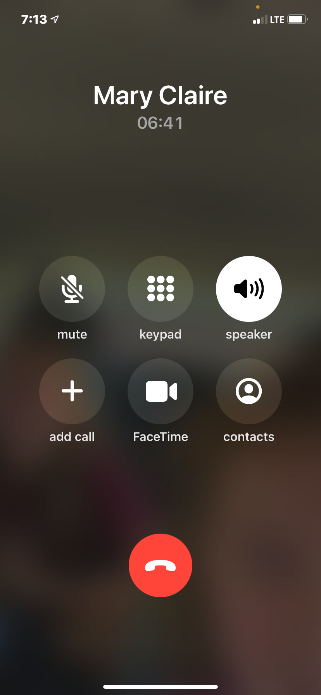 Schmidt believes that LEAD & Learn allowed for less stress last year, which was much needed in such a trying time. "Returning was hard… 5 days is a lot especially for those involved with sports, with rigorous academic schedules, and troubles within personal home life," Schmidt responded when asked about the consequences LEAD & Learn Wednesdays left with her this year. "Especially because LEAD & Learn allowed for a personal increase productivity that we are now lacking." Overall, she felt that the consequences students are dealing with are negative because there is less time for managing their work loads, making it harder to concentrate after having a break. She also noted that people are getting less sleep this year than last year due to having acclimated to a flexible work day last year.
Junior Mary Claire Schmidt's interview takes place
over phone call to maintain social distancing guidelines.
Sophomore, Jillian Reynolds, finds Assumption's effort to return to a more traditional school year great. "I think that they're doing a really good job of making it feel normal. They're connecting with us and helping us learn through social events – everything feels like it's back to normal." She stated that she finds the social events enjoyable and that they create a sense of belonging. "This is the Assumption experience that I expected coming in," she said with a smile.
When asked about the adequacy of accommodations made by teachers, Reynolds finds the accommodations very helpful. She feels as though teachers are doing a really good job understanding and assigning manageable workloads as we return to a more normal school year. "I love being able to come to Ms. Hicks or Ms. Asfahl because they're so welcoming," Reynolds responded after being asked about the accessibility of the mental health resources at Assumption. "They know what they're doing and it's supper accessible. It helps to talk to someone." Furthermore, Reynolds feels as though the counselors keep a diversity of mental illnesses and mental health needs in mind when reaching out to students.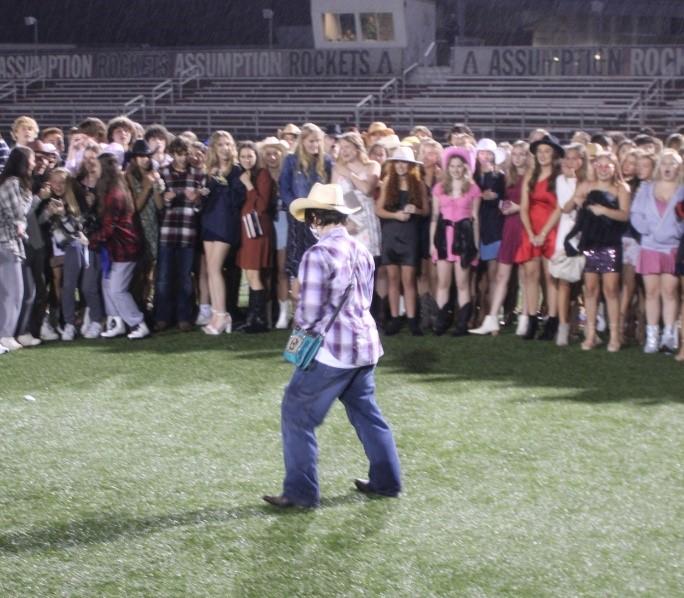 Senior Lauren McClelland shows off her dance moves at the Boots and Bling event.
She found it fun for the community to be together again.
Brand new to the Assumption community, freshman Lindy Miller said, "They're doing enough, but they could definitely be doing more [to help students return to a more traditional school year], but I'm happy about the emphasis on freshmen activities. I feel like it allows for a class connection and it's nice to be able to see each other's faces." When it comes to the accommodation of mental health needs from students, Miller feels as though the teachers are speaking up about the availability of accommodations and they're asking students to come to them and seek help, which she finds very important. Although Miller admits she personally has yet to utilize these opportunities, she is able to recognize the teachers' sincerity and the usefulness of these accommodations to her friends. "Teachers are lenient with due dates but still upholding their responsibilities of teaching," Miller concluded. When asked about the accessibility of mental health resources, Miller feels as if the Assumption faculty is doing an ample job, by being open and understanding but still maintaining a hopeful atmosphere by staying, "bright and happy without making us feel like they aren't taking us and our mental health seriously." Miller also emphasized that the lack of pressure to talk to counselors is helpful in allowing students to advocate for themselves and begin recognizing their own needs, although she feels that the diversity of the mental health resources needs improvement.
Last year, at her old school, Miller had flexible work days on Wednesday as well. She feels that after the LEAD & Learn Wednesdays it was hard to get through the 5 days in the beginning, but, "it makes weekends more enjoyable and I think everyone finds themselves appreciating the five days more because they make you feel fulfilled." Miller said that its easily understandable how the Wednesday could be missed by others, but she's personally happy that she has the opportunity to learn more this year by being in person all five days. Overall Miller finds herself happy to be part of a community that is putting in the effort for their students.
Lastly, Mrs. Deweese, the chair of the guidance department and the counselor for the class of 2022, feels as though the pandemic has made students go to "catastrophe mode" much faster. She explained that she sees students' minds making severe leaps that weren't present pre-pandemic. "We live through a catastrophe together, and now our minds go to catastrophe mode," she said. She works hard to take care of students as soon as she can because of this. Either same-day or day after appointments are made and she rarely has to address someone's needs later than that.
Deweese believes that teachers have been very accommodating for students' needs this year, especially when conversations can happen with her first. She bridges the gap between students and teachers in order to help them with their workload and keep teachers aware of the problems that students are facing. As a whole, she thinks that society as a whole should communicate better about mental health. "Ongoing dialogue makes a student feel like there's less pressure on them," she stated. "To students who feel like they're struggling right now: you're not alone. Everyone's facing challenges in many ways, whether it's academic, mental, or personal, and they'll continue to face these challenges because the pandemic isn't over yet." She smiled as she gave a final piece of advice. "Remember to be gentle with each other."