Spring Break in Louisville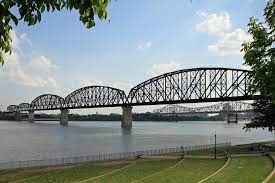 Spring break – a highly awaited week for everyone here at Assumption and across the city! With a whole week off of school, students are going across the country, and even across the world, to travel and spend their week at a beach, in a cabin, or on a boat. We at Assumption have an extra day of spring break the Friday before thanks to the whole school selling enough raffle tickets. But for this week (and a day) not everyone is able to go on vacation – but there is still lots of fun to be had here is Louisville!
There is plenty to do for nature lovers should the weather permit, including Bernheim forest, the Parklands, and the Louisville Loop for those who want to stay active or be outside. Bernheim forest and the Parklands have plenty of gorgeous walking trails, creeks and ponds to visit. They also have plenty of great picnic spots for if you want to pack a picnic day for a group of friends. Another local place to get outside would be Yew Dell Botanical Gardens for hiking or volunteering in the gardens if you still need some last-minute service hours.
For those who prefer an adventurous spring break, there are plenty more options! If you're willing to take a drive, the Falls of the Ohio is a natural landmark with a variety of activities, from hiking to picnics to fishing, along with the ability to explore historical sites along the park. Another idea for an adventure would be walking the Big Four Bridge. The Big Four Bridge downtown goes from Louisville to Jeffersonville, Indiana. Along the way, you can stop at Waterfront park for a picnic or go over the bridge for some shopping. Jeffersonville right over the bridge has many cute boutiques, shops, and restaurants within walking distance of the bridge for a fun day of shopping. Jeffersonville is also home to Schimpff's Confectionary, a candy store with a wide variety of sweets!
If you prefer staying indoors for your Spring Break at home, Louisville is home to many museums and indoor experiences that you may not think to do on a regular day. For example, the Speed Art Museum is a great place to explore to look at art from different time periods and places of the world (or take photos for your Instagram!) The Frazier History Museum is another indoor option with exhibits such as the 'Lewis and Clark Experience' and 'Cool Kentucky' (which highlights Kentucky's history and attractions statewide). Finally, a third indoor experience would be the Kentucky Science Center, for a more interactive learning experience for those who like to invent or explore. And we can't forget the Kentucky Derby Museum and Louisville Slugger Museum, both which highlight the history behind two of the main things that Louisville is known for.
Even if you're staying here for spring break, there is still so many things to do around Louisville! You can still travel around our own city right here and maybe find a new appreciation for activities you've never tried before.
By: Kaelyn Douglas