Assumption's Opinions on NTI
On January 9, 2022, Jefferson County Public Schools (JCPS) announced they would be returning to non-traditional instruction (NTI) through virtual classes. According to JCPS, the school system concluded to return to NTI because of faculty and staff shortages due to Covid-19. WDRB reported that the district does not plan to continue NTI learning for long, but it raises questions within student bodies whether it is safe to be in school right now. Jefferson County's current average is 2,221 Covid-19 cases per day. The new, contagious Omicron variant is spreading rapidly amongst students and staff, so there are a variety of opinions regarding the next step in combating Covid-19.
Many school systems across the nation have returned to virtual learning, including Washington D.C., Chicago, and Minneapolis. High schoolers in New York City staged a walkout from lunch to protest in person learning considering the new omicron variant. The students believe the surge in new Covid-19 cases should be reason enough to return to remote learning.
Although Assumption administration announced that we would not be returning to virtual instruction, students have differing opinions on what the right route is for a safe learning environment. Sophomores, Raegan G. and Clare H., agreed that Assumption is handling the pandemic very well, and the only change they would make is having more teachers record classes for students who are out sick. Because their freshman year (2020-2021) was a year of all virtual and hybrid learning, they felt as if they did not even go to Assumption for a while. They also agreed that they have learned way more this year than last year. Junior, Lydia S., had similar opinions. She said, "Assumption knows we struggled with NTI, and they want to keep us in school no matter what. They are doing an excellent job to keep things as normal as possible."
Some students don't agree with the way Assumption is handling the pandemic. Seniors, Jackie H., wishes there were more rules. She said, "I wish we could go to virtual learning for a short amount of time, especially before the dance team heads to Nationals (if they have Covid-19 cases, they have to drop out). I appreciate them trying to make it as normal as possible, though." Junior, Miranda B., also wishes things were being handled differently. She said, "I'm really nervous coming to school right now, especially knowing Covid-19 is in the air. It puts a lot of pressure on me."
After talking to students and hearing stories from across the country, it is evident that people have a variety of opinions on the best steps heading forward. For now, Assumption will be operating in-person, and students are required to wear a mask and stay distanced. Until Covid-19 cases begin to dwindle, remember to stay healthy, wear your mask, and use safe practices.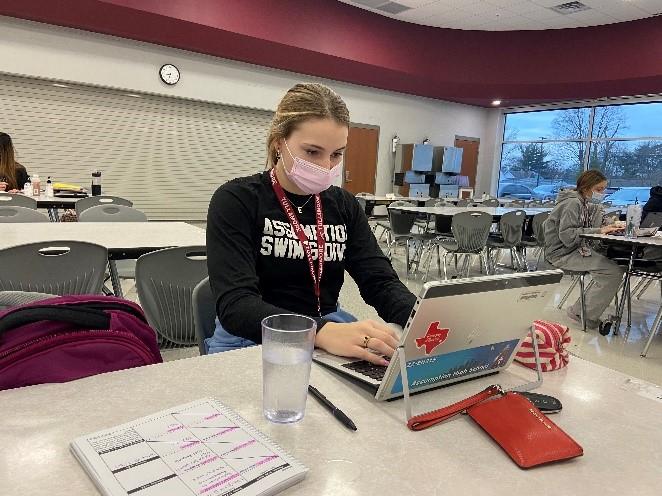 https://www.washingtonpost.com/education/2022/01/12/new-york-high-schools-walkout-cororonavirus/
https://www.wdrb.com/news/jcps-to-close-monday-shift-to-remote-learning-tuesday/article_b630f6bc-71a1-11ec-982c-aba9b936e2f3.html